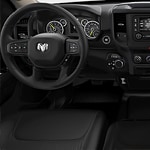 The Ram 1500 is a lightweight pickup truck with a lot of attention at the moment. This machine was built to serve virtually any purpose. Whether you need something to reliably haul cargo, run errands, or just go for a joyride, then the Ram 1500 should be able to fit your needs.
At Mig Chrysler Dodge Jeep Ram, we're especially excited about the durability features that the Ram 1500 has to offer. These include a frame that's made of 98% high-durability steel that'll protect in any number of situations. Plus, the Ram 1500 has a multifunction tailgate built to withstand whatever cargo you throw inside it, as well as unique swinging doors that'll make loading and unloading your vehicle easier than you can imagine.
To experience the power of the Ram 1500 yourself, come try one out for a test drive here at Mig Chrysler Dodge Jeep Ram! We think you're going to fall in love with the experience.